TALK TO OUR EXPERTS
Schedule a free call anytime convenient for you. Allow our experts and your personal concierge to assist you in your journey to an amazing summer.
ONE OF EUROPE'S BEST SUMMER CAMPS IN FRANCE:
CREATIVITY, ENTREPRENEURSHIP, FUN & ADVENTURE
Learn with artistic masterminds and well-known entrepreneurs
The programme is offered by our diverse team of senior trainers and industry professionals, from award-winning photographers to well-established filmmakers and contemporary artists and storytellers as well as visiting experts. They have both the passion for and experience working with students from around the world and are eager to share their knowledge and expertise with you.
A Summer Art Programme for Everyone in the French Riviera
The camp offers you the opportunity to explore and develop your talents in fun and creative ways and is designed for students who want to explore a wide range of experiences, for those eager to delve deeply into a particular creative skillset or for students with an entrepreneurial or artistic spirit. At the same time, this is also the perfect experience for students with no creative, artistic or entrepreneurial experience but seeking to discover their talents and potential in the Cannes and Nice area.
A UNIQUE LEARNING EXPERIENCE
Explore – Create – Realise – Share
Throughout the residential summer camp, students explore the journey from generating an idea, putting it into action, understanding how it can contribute to their environment and sharing it with others in effective, authentic and powerful ways.
The creative camp follows a pioneering concept which offers students the opportunity to sample many different experiences, gain new ideas, skills and insights and discover themselves, but also delve deeply in a specific area of their interest, thereby providing both breadth and depth. As such, students experiment with visual and performing arts, media training, storytelling, filmmaking, photography, entrepreneurship and amazing outdoor camp activities; at the same time, they create their own project during the camp, which lends the possibility of focusing in-depth in a specific area of their choice. Students get tailored guidance and personalised feedback from our caring and expert team, which helps them grow as individuals, improve their skills and optimise their camp project, which can later serve as an important element in their portfolio or university applications.
All this amounts to a unique experience that is very fun, meaningful and truly memorable.
An amazing 2-week programme in the South of France
The SILC Creative & Entrepreneurial Summer Camp offers a rich and balanced programme incorporating creative activities, entrepreneurial  training, outdoor activities as well as opportunities to explore many splendid areas of the French Riviera such as Nice and Cannes.
In Week 1 we focus on exploration, self-discovery and self-expression. With guidance from our senior trainers, award-winning photographers, filmmakers and artists, students get to experiment with a variety of creative activities and set out to create their own camp project whereby they focus in-depth on areas of their choice.
Click on the pictures below to view the programme in fullscreen.
In Week 2 students continue developing and refining their personal projects, with tailored guidance and personalised feedback from our passionate and experienced team. Students also gain important entrepreneurial skills and knowledge from our visiting entrepreneurs, marketeers and storytellers working for leading brands around the world, thereby developing their creativity, communication skills and confidence.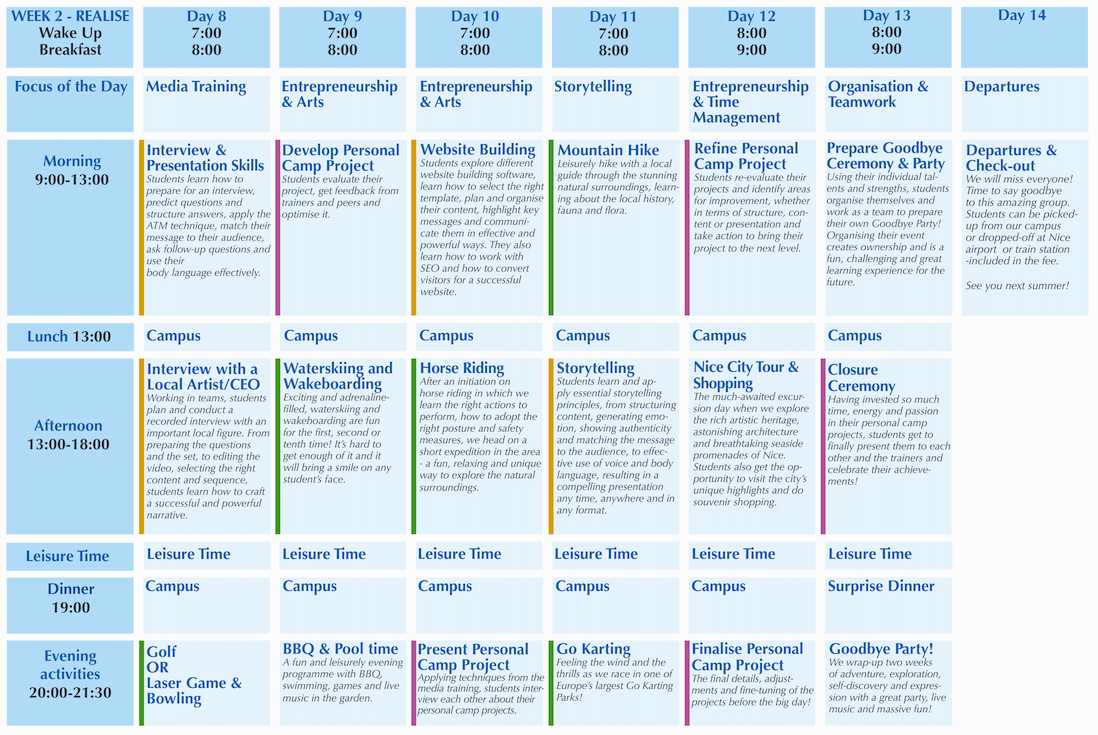 Dates
Session 1: 29 June – 12 July 2024: Limited places
Session 2: 13 July – 26 July 2024: Limited places
Ages
We welcome participants aged 11 to 17.
Arrival
We pick you up and drop you off at Nice International Airport or train station upon arrival and departure. Alternatively, we can welcome you directly at our campus.
Food for all diets
We have a top chef who serves European and international dishes made from fresh ingredients. Salad, vegetables and fruit are always available, and vegetarian, religious and any other special diets can also be catered for.
All inclusive Fee
All inclusive fee per student: Euro 5,400.-
Mandatory insurance fee: Euro 200.-
The fee is all inclusive and covers the entire camp programme packed with activities, as well as pick up from and drop off at Nice International Airport if required.
Language at camp
The main language during camp is English and a basic day to day understanding of English is sufficient. Students will improve their language skills throughout camp in a natural way.
Typical day at camp
Mornings
Students wake up in their comfortable and modern ensuite bedroom shared with one other student, before enjoying a healthy and tasty breakfast prepared by our excellent in-house chef. The mornings will either find us on-campus immersed in a creative activity, our personal camp projects and interactive entrepreneurship workshops, or taking advantage of the cooler temperatures to explore the area through rock climbing, mountain biking or hiking before heading back for lunch.
Afternoons
From a workshop on storytelling in the coolness of our mansion or conducting an interview in the garden, to relaxing outdoor activities like snorkelling, horse riding, waterskiing and a high-ropes course, every day offers a balanced, memorable and truly unique experience.
Exploring the Riviera
In addition to the daily creative, entrepreneurial and outdoor activities, we also explore the rich cultural heritage and stunning nature of the Riviera, through fun excursions to Gourdon, Nice and Grasse and short expeditions in the area, such as snorkelling, mountain biking and horseback riding.
Idyllic evenings
In the evenings we enjoy a more relaxing programme with a barbecue or karaoke in the garden, swimming or developing our projects. On other occasions we have a more active programme with fun social activities like golf, laser game or go karting. 
SILC Creative & Entrepreneurial Summer Camp
Get in touch for more information regarding our camp in the Côte d'Azur.
A modern and stunning campus, rich in nature, arts & style in the South of France
The camp is based at our private, gated domain in the surroundings of Cannes comprising our beautiful mansion where rooms are shared with 1 or max 2 other students with single beds, ensuite bathrooms, a swimming pool and views over the majestic Mandelieu-la-Napoule, Cannes, mountains, and valleys, as well as a private garden, providing an oasis for creative inspiration and leisure activities. Located just 10 minute away from the Bay of Cannes and 25 minutes away from Nice, our campus promises an unforgettable summer experience with many outdoor activities. It's also easily accessible from Nice International Airport – just a 25 minute ride through the artistic surroundings of the French Riviera. 
Organisation & Safety
Our experienced and international team has all the expertise required to manage the camp with great care, passion, attention for detail, operational excellence and safety.
We are dedicated to upholding the highest standards for creating a wonderful learning experience and looking after the health, safety and well-being of our students. We give all the support needed to ensure students are safe, enjoy their time and perform to the best of their abilities.
Reserve without risk: no deposits and full refunds
Secure your child's place now without worrying about any financial impact as we do not ask for deposits and offer a full refund before the start of camp, if:
To assist you to the best of our abilities, we offer full refund in case:
1. Cancellation until 15th May 2024.
In the following case, SILC Academy will provide a partial refund:
1. Cancellation from 15th May 2024 until June 1st: 80% refund on the total camp fee
2. Cancellation from 1st June 2024 onwards: 50% refund on the total camp fee
No refund is made for cancellations as of 15th June 2024, inability to obtain an entry visa for France, a shortened stay, missed activities or workshops, withdrawal or dismissal during the camp, and in case of force majeure circumstances such as events/occurrences that are out of the control of SILC Academy such as, but not limited to, natural disasters, pandemics, airport strikes, accidents, technical difficulties, conflicts, fire, and bad weather conditions.
SILC Creative & Entrepreneurial Summer Camp
Register for this unique experience. Limited places left for 2024!